Kevin Steele
Eferno
Pendleton, United States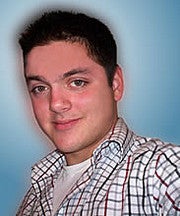 account statistieken
BIO
I am an amateur photographer that mainly uses my photos with graphic design projects, being mainly into graphic design. I still enjoy photography a great deal. Would like to upgrade my camera soon as well. ;)

I am a general partner in the LLC. AMPerage Design Professionals, at http://www.amperagedesign.com, and am also the Lead Designer. Redesign in process as well, so check back later for some awesome developments!
Website:
http://www.amperagedesign.com
Toegetreden:
July 22, 2005
Materiaal:
Don't let the uploads fool you...I'm a Designer through and through!
Favoriete onderwerpen:
Nature from surprising angles, cityscapes, graffiti, small town america, urban architecture, gritty reality of life, & misc (of course ;) )
Ik ben een fotograaf die uitsluitend met Dreamstime.com werkt.