Guido Cosentino
Guido.cosentino
Vanzago (mi), Italy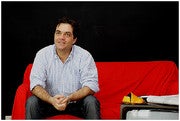 account statistieken
BIO
I would love to hear from you if you use my work in any of your projects. If possible, please send me an email with a final version of your work.
Website:
http://www.flickr.com/photos/paperodigitale/
Toegetreden:
June 18, 2006
Materiaal:
Canon eos 1000 fn Canon eos 300d Canon eos 20d Lomo LC-a Olympus trip 35
Stock rang:
Ik ben een fotograaf die uitsluitend met Dreamstime.com werkt.