Henk Siteur
Henkje
Utrecht, Netherlands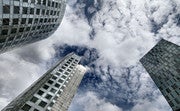 account statistieken
BIO
I am Henk Siteur and live in Utrecht, Holland.
I like making photos of architecture ver, very much. Therfore I like mathematics very much.
I am 69 year and photograph more than 50 years.
Toegetreden:
April 20, 2008
Materiaal:
Canon 400 D with 17-85 mm, wide-angle Sigmalens 10-20 mm and tele 100-300 mm.
Favoriete onderwerpen:
Architecture and abstracts
Stock rang: