Jessie Eldora Robertson
Jessieeldora
Williams Lk. Bc, Canada, Canada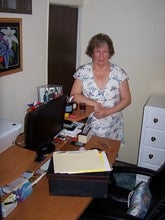 account statistieken
BIO
I'm the type of photographer that would probably (almost) hang-off of a cliff to get the picture.
Website:
http://https://www.etsy.com/shop/jessieeldora?ref=...
Toegetreden:
July 16, 2005
Materiaal:
Cannon A310 AiAf 3.2 megapixels Dig!C 5.1x zoom set L 2048X1536 resolution.(past) Sony 5.1 mp 3x optical zoom Cyber-shot (past) Kodak Easyshare Z650 & CanonShot A1000 IS - presently; also Canon EOS Rebel T3.
Favoriete onderwerpen:
right now - children, still life, landscapes
Stock rang: