Junaid Rafiq Dar
Junaiddar1996
Srinagar, India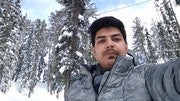 account statistieken
BIO
Hello,
Myself Junaid Rafiq citizen of India residing in my hometown Srinagar Kashmir.
as far as my profession is concerned im a student pursuing my bachelors degree and besides that i am a photographer..That's why I'm here.
Toegetreden:
February 24, 2017
Favoriete onderwerpen:
programming and photography are my favorite subjects.