Mark Andrews
Markandrews
Shanghai, China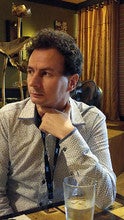 account statistieken
BIO
I''m a freelance writer/photographer living in Shanghai. My pictures are largely of China, Japan, Laos, Cambodia and the UK. I travel extensively and will have more pictures of other countries soon.
Website:
http://www.markeaandrews.com
Toegetreden:
November 22, 2006
Materiaal:
Nikon D300S. Always use either a UV filter or a polarising filter.
Favoriete onderwerpen:
Travel related