Julie Hollis
Paintergirl21
Dumfries, United Kingdom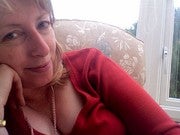 account statistieken
BIO
I have trained with a Reiki master up to the first level and developed an interest in the use of chakra colours as a result. My mandala work comes from this fusion of energies and feelings and can be affected by my own emotions at the time of creation. I work from a small studio in south west Scotland.
Website:
http://juliehollis.co.uk
Volg mij:
Toegetreden:
November 18, 2010
Materiaal:
I use various mathematical software programmes to create my mandalas and manipulate their final image using mostly Photoshop on my MacBook.
Favoriete onderwerpen:
Mandalas, Chakra Colours, Reiki Energy