Guy Volb
Shutterjock
El Paso, United States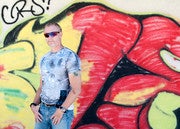 account statistieken
BIO
Photography is an art. And its beauty is in the eyes of the photographer and those who view his/her work. A nice shot to one is not always appreciated by others.
Website:
http://https://https://www.shutterjock.com/
Toegetreden:
September 5, 2006
Materiaal:
Nikon D3, GoPro Hero 4 and Canon XF300 camcorder.
Favoriete onderwerpen:
Sport, athletes, bodybuilders, fitness models, adventure etc.